White Earth Bay Residents Celebrate WAWSA Service this 4th of July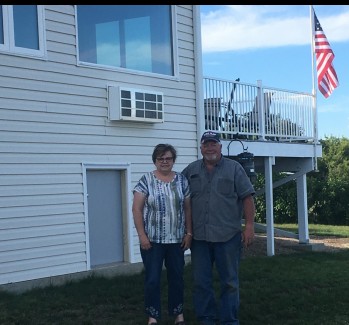 The residents of 72 cabins on White Earth Bay have a lot to celebrate this 4th of July, as their new water service from the Western Area Water Supply Authority (WAWSA) arrived at the end of June. The property owners previously had to choose between using well water that stained plumbing fixtures or hauling thousands of gallons of water for showering, washing dishes, and cooking.

 Bob and Karen Anderson own one of the cabins located on White Earth Bay, which is located on Lake Sakakawea between Williston and New Town. Bob estimates they signed up for WAWSA service six or seven years ago. They're very happy to not have to haul water via truck to fill their 1,600-gallon storage tank at their lake home each time they visit.
 The couple's year-round home is south of Tioga, where they received WAWSA water service about a year and a half ago. "My wife is a happy camper. Before we were hooked up, we bought a new water heater and washing machine, so we could start over fresh with this new water that wouldn't stain everything. Everything is really great, and the Western Area Water Supply folks have been excellent to work with," says Bob.
 As a former oil field worker, Bob says he's especially happy the industry is able to give back to the communities that benefit from WAWSA water. Oil companies purchase water from WAWSA for the hydraulic fracturing process, as well as other drilling, completion, and well maintenance activities. WAWSA sells its unused water capacity to the oil industry during the Bakken region's population growth period to pay for the public water project. "The oil companies are helping residents like us get decent water to our homes by paying for a large share of the project's cost," says Bob.