2018 Construction & Upcoming Legislative Plans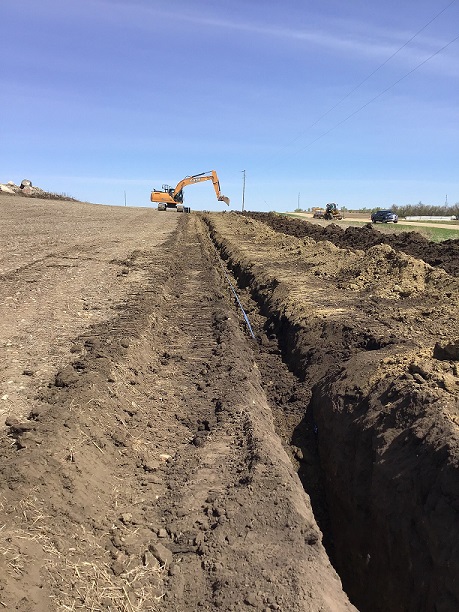 A late spring thaw means the start of the 2018 construction season was delayed by a couple weeks on the Western Area Water Supply Authority's (WAWSA) 2018 projects. Last fall, WAWSA requested bids for several projects across the region, including rural water service expansions outside of Stanley in Mountrail County. The projects include the installation of 105 miles of pipe to serve 103 new users in 12 townships. "We hope to provide water service to these new customers this summer, into the late fall. People are anxious to receive water that won't stain their clothes and fixtures, and we're anxious to deliver it," says Mark Owan, WAWSA Board Chairman.
In the McKenzie County Water Resource District, WAWSA will be working to provide water to the Tobacco Gardens Recreation Area and Horse Creek School in southwestern McKenzie County near the Sather Dam Recreation Area. In addition, projects to connect ranchers and farmers south of Watford City, plus several commercial and industrial developments are underway. When construction is complete, 96 miles of pipeline will deliver high-quality drinking water to approximately 111 new users. Pipelines in the R&T Water Supply Commerce Authority's service area will also bring service to 139 White Earth users.
"We're working to get as much done as we can before our construction season wraps up. There are a lot of people who want WAWSA's high-quality drinking water at their homes," says Todd Pokrzywinski, WAWSA Interim Executive Director.
Construction has begun on a new pipeline for the future Missouri Ridge School (District 8) and new Williston Basin International Airport. The nine mile stretch of pipeline will serve the area northwest of Williston where the new school and airport will be located, as well as future housing and commercial developments, and 30 rural customers.
By the end of the current biennium in mid-2019, WAWSA plans to complete several improvements at the Williston Regional Water Treatment Plant and a new two million gallon water tower between Arnegard and Watford City which will provide service to the City of Arnegard, along with additional water storage for Watford City and the McKenzie County Water Resource District.
The 2017-2019 State Water Commission budget (HB1020) includes more than $120 million split among several water supply projects, including the WAWSP. WAWSA requested $29 million from the budget for the current biennium. As of June 2018, $20 million in grant money has been approved by the State Water Commission.
"We're looking ahead to the upcoming legislative session, which begins in January 2019, to make construction plans for the 2019-2021 biennium and the funding needs that go along with that," says Owan. WAWSA anticipates requesting a mix of loan and grant dollars to complete a $50M expansion.
To date, WAWSA has constructed more than 1,370 miles of pipeline to deliver water to cities and rural areas in Burke, Divide, McKenzie, Mountrail, and Williams Counties. Currently, about 60,000 people receive drinking water from WAWSA. In addition to rural customers across five northwestern North Dakota counties, residents of Williston, Watford City, Ray, Tioga, Stanley, Wildrose, Crosby, Fortuna, Noonan, Columbus, and Ross receive WAWSA service.